What Does R-DEE Do?
Powerful tools at your fingertips
R-DEE Connect
Share sensitive data and information in real time with peace of mind, using our military-grade, dual-end encrypted messaging platform: a MUST-HAVE for ER, front-line and critical response personnel.
Connect directly and instantly with your peers worldwide through R-DEE Meet's end-to-end encrypted communication (text/voice/video) on any device. With the highest HIPAA compliance available, R-DEE eliminates the need for unsecured communications over popular platforms like WhatsApp and Zoom.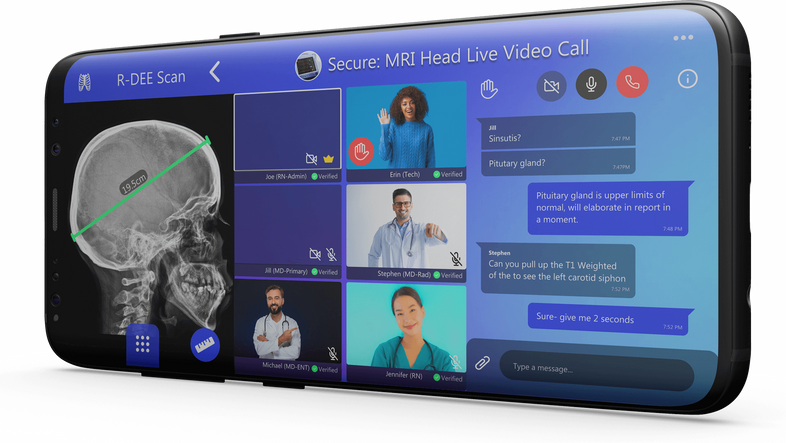 Do more—efficiently, securely, and faster—for less money, period.
Why R-DEE?
Secure Authentication
No IT platform—whether it's client-side, cloud, or blockchain—is immune from data hacks or stolen/lost login credentials. That's why we put security, authentication, and rapid access foremost in developing R-DEE. We understand your industry risks, and created the MOST secure healthcare platform available.
With R-DEE, usernames and passwords are a thing of the past. Radiologex partnered with Trusona, the pioneers of passwordless technology, to provide cutting-edge authentication and user verification. Our secure approach ensures that you can access your vital information quickly and safely—from anywhere, at any time.
Identity Proofing
With built-in Know Your Customer automation, all users are verified on our platform, near instantly and digitally, using photo ID's and facial biometrics. Trust is never assumed, it is built-in

™

.
Deterministic
R-DEE does not rely on unsafe SMS or multiple-factor authentication. Its fast-boarding, passwordless account creation process renders usernames and passwords obsolete and optional only in cases where a device is inaccessible.
Dynamic
R-DEE authenticates its users through document data scan and verification service (AAMVA) with state-of-the-art anti-replay technology.
Multiple MFA capable.
No Tokens, means no loss of token device.
Consistent login UX in any channel.
Thwarts static credential replay.
Eliminates keyloggers and password reuse.
No Phishing, SIM swapping, or credential stuffing.
For Improved Healthcare Quality.
Powerful User-Authentication
More Successful Logins
Less Downtime
Faster Workflow
Watch R-DEE in Action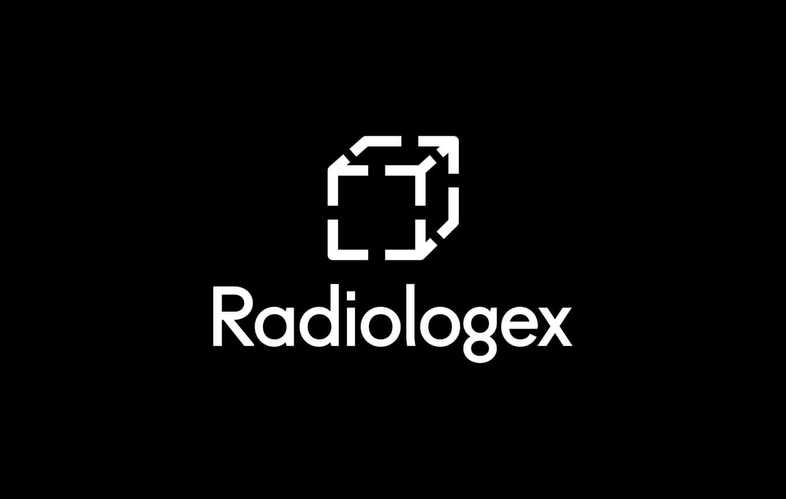 Full Custodianship / HIPAA Compliant
Take full custodianship of your privacy and data. There are no trackers or use of data-mining: seamless, safe, and instant interaction has never been simpler–R-DEE is powered by the most advanced encryption and secured by blockchain, with the highest HIPAA compliance available.
Take advantage of unlimited storage capacities and high-speed data retrieval on the R-DEE blockchain. With full custodianship, the data is yours and yours only. You can grant permission to others to view the data, and track when they viewed it.
How Do I Get R-DEE?
R-DEE is easy available on all devices and the following subscription offerings:
Free download and use for iOS on the App Store and Android on the Google Play
Register, access, and use R-DEE anytime directly though this website.
Available in the following subscription tiers
R-DEE Free
Available worldwide to all
R-DEE Plus
Enhanced features
R-DEE Pro
All-inclusive business use
R-DEE Enterprise
Private blockchain and platform white label solutions for large enterprise and government
Additional Features
Expertly Crafted UI, On Any Device.
Fluid workflow and highly responsive User Interface designed specifically for the Medical and Healthcare Industry. Seamlessly switch between R-DEE Marketplace and R-DEE Connect, engage your private group with curated Content on R-DEE Stream, settle invoices on R-DEE Settle, discuss patient referrals and do scheduling right on R-DEE Manager. Do more, in less time, on any device, Mac, PC, IOS, Android, and Web. No more waiting until you "get back to your device or station". Healthcare needs always on, healthcare needs now, healthcare needs R-DEE.
High-Definition Quality
Enjoy superior image quality across the entire R-DEE platform. Whether you are sending pics or video on R-DEE Connect, viewing an MRI image on R-DEE Scan, or viewing a training video on R-DEE Stream. View the image as it was scanned (just how medical imaging should be) or how it was intended for you to view. Only on the fastest CDN (content delivery network) custom-built for the global healthcare industry, constructed for high-quality and fast speed.
Cut the cord
Let R-DEE save you time and money by eliminating the need for redundant, multiple software and hardware based systems and platforms. Not only are they slowing your enterprise down by requiring an array of different components, maintenance, and product training, they are, more importantly, a dangerous sources of data leaks, hacks and attributable HIPAA violations The first Medical Interactive Network™ is here and it gives you all the tools (and freedom) you need for a bonafide all-one-platform. Communicate, collaborate, transact, and produce, only on one account and one platform.
Unrivaled Worldwide Technical Support
Live Support, always available, 24/7. Searching for support and contact emails are annoying enough, made worse by receiving a ticket and promise of help to come, sometimes days later. At R-DEE, we find this to be grossly inadequate for our customers and users. Hence why we have on-demand and real-time, multi-Language capability and support, via in-app chat, text, call, video conference, and out of app telegram, discord, email and other channels. Above and beyond our global tech support center, we are deploying regional technical support PODS™ available in multiple countries and regions across the globe. Your time is valuable and the bottom-line, improved patient healthcare, is our ultimate focus.
The Most Secure Platform and Network
Advanced user-authentication and verification powered by a proprietary third-generation, leading-edge, blockchain based architecture. With end-user controlled privacy and blazing fast, secure, immutable data storage, give access and permissions for your information and data on the fly, always keeping track and full-custodianship of YOUR data. Trust ie never assumed, it is built-in™. Next-level HIPAA compliance with permanent safe storage is standard across our decentralized platform. A giant leap forward from current legacy and cloud-based solutions.
All That and More
A true Web3.0 solution would not be authentic unless it were a bonafide all-in-one solution. Find your second opinion, contracts, collaboration, connections. Advanced features and capabilities such as our neural network and AI based algorithms that are not just buzzwords, they actually perform a function such as medical data/image aggregation and AI algorithms coded in to help you work smarter and faster. R-DEE is not just a platform, it is a comprehensive healthcare hub designed to help you engage in the ultimate service and idea exchange. This is why healthcare happens here ™.